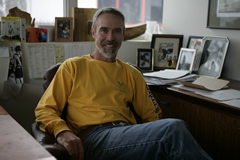 Facility
Our facility allows us the flexibility to accommodate a wide variety of unique projects. Specialized machines and tools allow Carley, Wood Associates, Inc. to incorporate hand-craftsmanship with the latest in technology. We can lay out and pre-assemble all of our components to assure an exacting fit and sequence match before installation. We do our own finishing using a dust-free, temperature controlled system.
By controlling all essential facets of each project, we are able to ensure the architect that their design and functional intents have been fulfilled and give the customer the pride of a personal value purchase that will stand the test of time.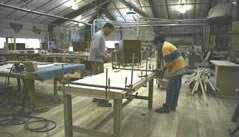 Robin Carley
Robin Carley is the owner and president of Carley, Wood Associates, Inc. Prior to start-up, Robin worked for a furniture manufacturer and general contractor as a journeyman and foreman. He attended UW-Madison for undergraduate study in Fine Arts, with a concentration in furniture design, construction and color techniques, with additional studies in mechanical engineering. His graduate studies were also at UW-Madison in preparation for Architectural Graduate School.
Robin's professional associations include the national Architectural Woodwork Institute (AWI), present member (and past Chairman) of the Wood Technics Advisory Board — MATC, and he has served as a Board member of the State of Wisconsin Vocational Educational Gubernatorial Advisors Board.